Who we are
Hi, we're Max and Jake, Latino twin brothers from New Jersey. For as long as we can remember, we've been trying to help make the world a better place. We've done everything from donating our birthday gifts, helping raise money for fire victims, giving computers for kids libraries, even singing at nursing homes (okay, looking back that one might have done more harm than good). The one challenge we kept running into while trying to help was finding charities that allow kids of all ages to participate. When we realized our friends feel this way too, we decided to launch KIDS THAT DO GOOD – a place where young people can find ways to help their communities.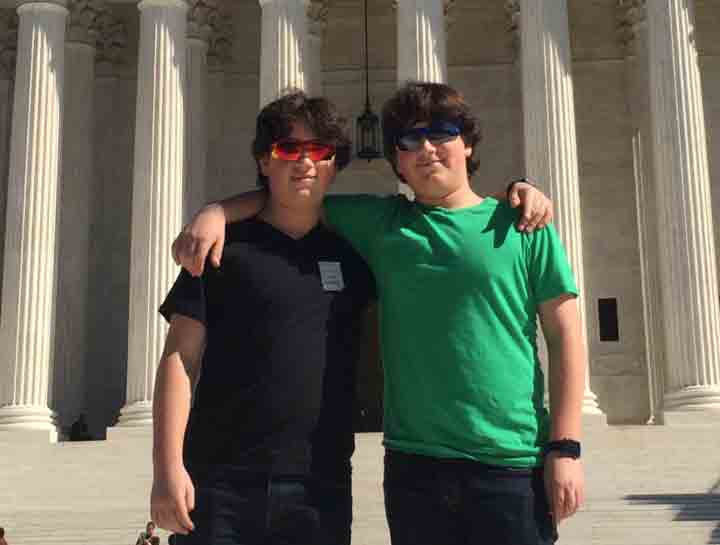 What we do
Our goal is connecting kids with ways to give back. We find charities, organizations, events or opportunities that welcome kids at a variety of ages. We wanted to create a place where kids and their parents could discover ways to participate locally, regionally or even on a national level. We hope that by using our site, kids and families can quickly find opportunities for any age, location, and the type of organization they want to support.
We also wanted organizations to be able to easily recruit help and spread the word to like-minded people. Here's to inspiring, encouraging, and empowering the next generation of Kids That Do Good!
Tax ID# 45-5182066
Donations made are tax deductible
as allowable by law.
Founders
Max and Jake
Jake and Max are Latino twin brothers from NJ who were frustrated that they could not volunteer in certain areas due to their age. Many charities required them to be at least 14 years old. So they were constantly looking for ways to give back. They used all of their birthdays as a fundraiser for a charity of their choice including: donations of computers to the local children's library, Toughbook computers to the local fire department, monies to Cancer organizations, food pantries and so much more. When they turned 13 they realized that other kids also wanted to get involved but didn't know how. That's when they came up with the idea of Kids That Do Good. They wanted to be a resource for kids, at any age, and show that its quite easy to make a difference. It just takes one person to make a huge impact on someone else's life.
Board of Kids That Do Good
Steven
Houston, TX
Steven is no stranger to charitable thinking. Recently he completed a project that collected 1,400 books for the Global Steward Initiative sending them to Tanzania and Malawi so they can set up community libraries in those countries. He and his family are consistently looking for ways they can all get involved which can be a challenge when you have two younger sisters and participation can be limited. That's why Steven finds unique opportunities to give back to those in need and is a perfect Board member for KidsThatDoGood.
Jordan
Fort Lee, NJ
Jordan's charitable initiatives often center around sports. For example, Jordan is very active in the Little League community and is often finding way to get underwriting for the various needs they have including having professional sports teams donate to his causes! His GO-TO personality and resilience to get the job done are exactly what more kids should aspire to. Although Jordan is young, his determination to help others is unwavering and enviable by most adults. His an active volunteer for many local initiatives and charities and always asks to assist again and again! These are some of the reasons Jordan is a perfect Board member for KidsThatDoGood.
Austin Rotter
Austin is a Vice President within 5W's B2B tech division. With close to a decade of experience in the digital media industry, he is a driving force in creating strategic communications and media relations programs for various hyper-growth tech companies in a wide-range of ecosystems such as adtech/martech, fintech, e-commerce, cyber security, blockchain, and everything in between. Since joining the agency in 2010, Austin has steered his teams in developing robust media-driven campaigns for clients such as The Trade Desk, Payoneer, Xaxis, Storyblocks and CommerceHub.
Ju Al Youm
Ju Al Youm has been working as a senior visual designer at DXagency since 2013. She received her MFA in Design and Technology from Parsons The New School for Design, New York and her BFA in South Korea. She previously lived in Korea before moving to the U.S. in 2005. She currently lives in New York.
Joe Confreda
Joe Confreda is a Partner at Garen & Company Accountants. He is a seasoned CPA with a vast knowledge of financial business management.
Jennifer Barry
Jennifer Barry is a seasoned teacher with 22 years of teaching experience. She has taught grades kindergarten through eighth and is currently a fifth grade science teacher in Edgewater, New Jersey. Jennifer holds a BA in Education and Sociology from William Paterson College and a Master's Degree in Education from Marygrove College. As an active member of her local union, the Edgewater Education Association (EEA), she has held several positions since 2001, including secretary, two-term Co-President, Grievance Chair, and Negotiations Team member.
Jennifer is passionate about volunteer work and giving back to the community of Edgewater. She has been the chairperson of the EEA's Annual Spooky Stroll since 2014, and she has worked tirelessly with her committee and fellow EEA members to raise funds, food, and awareness of hunger within Edgewater. She also volunteers at the Edgewater Education Foundation's yearly Under the Sea Gala, which benefits the Edgewater and Leonia public schools.
FIND WAYS TO GET INVOLVED REGARDLESS OF HOW OLD YOU ARE